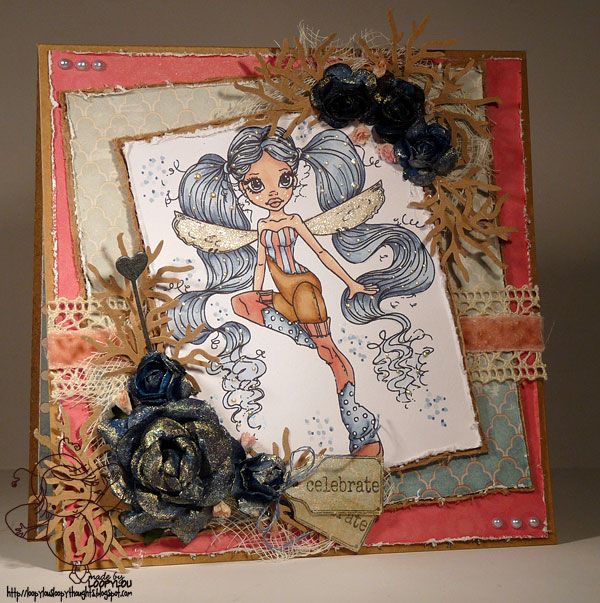 There are armfuls of lovely people in the craft world. Some of the sweetest people I've ever met, I have come across through drawing stamps. But even though there is a huge majority of crafters/stampers who make this community something special, there is always a handful that can turn that upside down.
I want to explain my DT requirements.
My list of rules is super short. I only have one:).
I will not allow my team members to work with the stamps of artists who are infamous in Stamp Out.
I do not feel like that decision needs to be defended; however, twice in two weeks my name has been dragged through the mud either on Facebook or in card forums because of that choice. Most artists who actually value their art and care about their reputation have that same DT requirement.
Today I woke up to a forum post that makes my stomach turn.
"Patches the Fairy" was given to a popular Dutch card club to be distributed by the leader of the club for a week to the members there~ for FREE. I have worked with this stamper for two years, giving her 4 different digital stamps to distribute to her members as described above. I drew the characters she asked for, and I even redrew one because she did not like the original. She also received over 40 free digital stamps while on a Dutch SC design team (which is now shut down).
Recently, she began to use and promote the work of an artist who I have had major issues with since September of 2011. This artist continues to sell artwork that is, at the very least, overly inspired by the artwork of someone else and therefore, questionably "original". I do not wish to be associated with people who promote the work of someone like that, so I made this very clear to her before giving her "Patches" to give freely to her club members.
This week, while giving away my free digi, she posted two different projects using this woman's artwork.
I understand that giving her this digi to distribute does not fall under the definition of a "Design Team" member...However, I believe that the way we worked together over the last two years warrants that she adhere to my DT requirements. I take a huge hit in sales, while she gains members. That is the nature of our work together, but I have known her for so long that I was happy to do this for her. I did not think it was too much to ask to refrain from any artist who has a spotty history in this business.
The card club forum's post today is both untrue and hurtful (as are the running list of mean-hearted comments):
"
I found it necessary to remove .. everything that has to do with Krista and her digi's, the club I will spare you the details but I can not and will not continue to work with someone who thinks they can put everything into her hand and can tell me what I can and can not colorize and what I can put on my club ... and then another will threaten me .... me too while I have done everything to its rules and wishes..."
(It is a little difficult to read due to translation into English)
It is disgusting to even have to approach this. For the second time this month I have dealt with this sort of thing.
~I did not threaten. However, I did require that the background she was using for the card club (my Shannon stamp) be immediately removed. She never had my permission to use my artwork that way; so if left up, would be viewed as an illegal use of my artwork for her site promotion without license to do so.
~I have one rule. Which she blatantly broke while handing out my artwork for free. I am pretty sure, actually, that I was the one adhering to her rules and wishes while she chose to take advantage of both the popularity of my stamps and the increase in traffic to her site because of them.
~Finally, many of these members (including the club leader) are still choosing to use my free digi but withholding the link to my shop and blog.
There seems to be a growing trend where stampers willingly choose to turn a blind eye to the artists they know have issues with originality. I am not on a crusade to fix that; however, I will not work with those crafters who do so. Period.
I choose not to run my business from a money-making standpoint. Granted, I am hugely thankful for my customers and followers and each order received. But my focus is business longevity and future goals that are completely outside the world of stamping. I will not risk my brand and business on people who have no moral compass or who falsify a situation without discretion. I am not here to boost numbers artificially or work with every stamper in hopes of gaining popularity. I care more about the authenticity of my product then I do about how widespread it is being used. So, if it means closing down a whole SC blog or never being promoted on a popular card club, I am totally fine with that. It really has no effect on my life.
My intent is not to be cavalier with my followers or sales, but I choose to strive for things outside of popularity and money. I have made bad business choices because of it, sure:). I am not very business- minded. But I do know where I want to go and my road getting there does not involve compromising on my standards.
I am going to put out a guest DT call mid July.
Please understand my requirements if you choose to enter the call.
Also, please be aware that the artists you choose to promote have a significant impact on your own reputation. Stamp artists have the right to deny anyone the privilege of serving on their DT in light of that. It is not something we should be put in the position of defending.
And since you made it through all that crap:), I have
Patches the Fairy
in shop with a coupon code.
You can get her for half price using FAIRYLOVE at checkout (enter AFTER all the Paypal screens:)...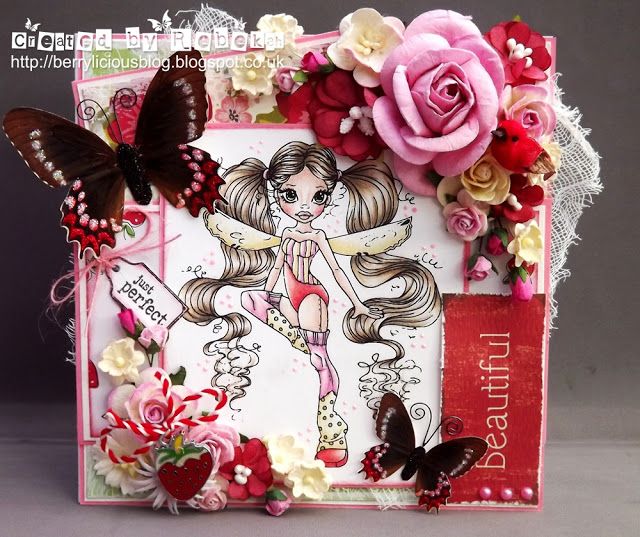 Thank you for reading.
Enjoy your weekend, friends.
xx